The 44. Nordic Dairy Congress with the theme Adding Value was held in heart of Copenhagen in June 2017. The venue Axelborg created a unique atmosphere for the congress.
On the day of arrival the Gold Sponsor for the congress, Chr. Hansen A/S invited all participants to visit Chr. Hansen's culture plant in Avedøre (Greater Copenhagen).
As a new initiative students sponsorhip from companies and organisations made it possible to invite more than 20 MSc dairy student from universities in the Nordic countries. Another new initiative was Sponsor's Corner which was a kind of competition that encouraged the participant to visit the sponsors and to listen to their presentations. 
Finally a very strong academic program and almost 40 recommended international speakers were the key to a successful congress with more than 260 participants from 15 countries all over the world.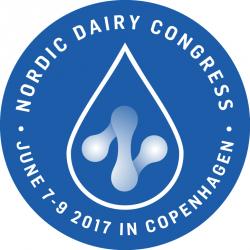 Link to programme and presentations 2017