Since 1920 Dairy Congresses have been organized in the Nordic countries every second or third year. This has been possible due to a collaboration between a number of dairy employee's organizations and societies of stakeholders in the dairy industry. During the last four decades, the work has been formalized in the Nordic Dairy Technology Council, which holds the responsibility for the congresses. In 2015 The Nordic Dairy Technology Council became a formal collaboration, registered as a business partnership with secretariat and service supported by Mælkeritidende in Odense (DK).
The council and the business partnership named Nordisk Mejeriteknisk Råd I/S is composed of nine stakeholders/owners from the Nordic countries. For more detail - see the list and links below.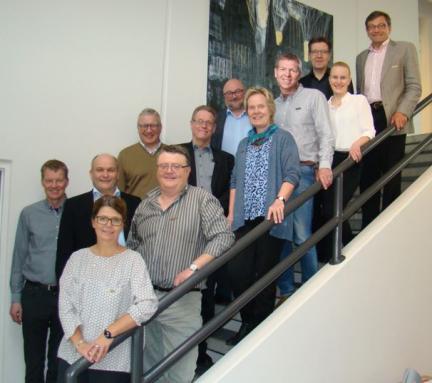 Nordisk Mejeriteknisk Råd (from the top):
Pehr-Eric Persson (Mejeriteknisk Forum)
Juha Yli-Kovanen (Meijerialan Ammattilaiset MVL ry)
Saara Pitkanen Meijeritieteellinen Seura ry)
Berit Nordvi (Norsk Meieriteknisk Forening) Not on the photo - will be updated
Niels Osterland (Danmarks Mejeritekniske Selskab)
Dagmar Pedersen (Dansk Mejeriingeniør Forening)
Bengt Palmqvist (Mejeriteknisk Forum)
Kari Toikkanen (Meijeritieteellinen Seura ry)
Petter Bru (Norske Meierifolks Landsforening)
Søren Jensen (Foreningen af mejeriledere og funktionærer)
Auduun Hermansson (Tæknifélag Mjólkur Iðnaðarins)
Anne-Sofi Christiansen (Mælkeritidende/ support).
 

Organization

 

Country

 

Link

Mejeritekniskt Forum
Bengt Palmqvist
President of NMR 2018-2020

S

Foreningen af mejeriledere og funktionærer
Søren Jensen

DK

Meijerialan Ammattilaiset MVL ry
Juha Yli-Kovanen

FIN

Meijeritieteellinen Seura ry
Saara Pitkanen and  Kari Toikkanen

FIN

Tæknifélag Mjólkur Iðnaðarins
Auduun Hermansson

IS

 

Norsk Meieriteknisk Forening
Tom Midtbø Dahl

N

Norske Meierifolks Landsforening
Petter Bru

N

Mejeritekniskt Forum
Bengt Palmqvist and  Pehr-Eric Persson

S

Dansk Mejeriingeniør Forening
Dagmar F. Pedersen

DK

Danmarks Mejeriteknisk Selskab
Niels Osterland

DK