Date: 8 June 2017
Time: 9.30 - 11.00
Place: Axelborgsalen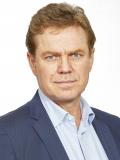 Adding value through 'Good Growth'
Today, European markets are under pressure and the reality of growing volatility is a challenge. At the same time the dairy industry is truly global with supply/demand increasingly being disconnected. Going forward, the majority of growth is outside Europe and a global infrastructure is therefore key to add value.Today, Arla Foods is the 4th largest global dairy player – a position achieved through a long journey of growth. Looking ahead, Arla's strategy 'Good Growth 2020' sets clear direction and help us release our full potential. We will develop our role as a global food company that adds value to people's lives through natural nutrition and responsible operations. To succeed, we will excel in eight dairy categories, focus on six geographical regions and win as ONE united and efficient Arla. We have defined ambitious targets for 2020 and we are on track, but the strategy cannot stand alone. We affect thousands of farmers, customers and consumers – as well as our planet. A strong foundation focusing on our mission, vision and values gives us the power to truly add value. The opening keynote will highlight why Arla Foods has chosen the 'Good Growth 2020' strategy, give examples of how the strategy adds value and what is needed to truly succeed. Presentation is not available yet.
Peder Tuborgh, CEO, Arla Foods amba
MSc in Economics and Business Adm., Odense Uni. Previous experience includes Danish and international positions at MD Foods/Arla Foods. Besides being the CEO of Arla, he is chairman of the board or board member of more companies.