Date: 7 June 2017
Time: 13.00 – 18.00 - individaul sceduling
Place: Chr. Hansen A/S Avedøre Cph.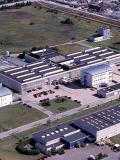 Welcome to the world's largest culture plant. As an important part of your participation in the Nordic Dairy Congress you are invited to visit Chr. Hansen's impressive production flagship – the culture plant in Avedoere very close to Copenhagen airport – on Wednesday 7 June 2017. The visit poses a unique chance to get behind the scenes at the world's most advanced production facility for lactic acid bacteria. Already the world's largest plant when it was taken into operation in 2008, the production capacity equaled enough cultures to cover the entire yogurt production in Europe. Since then several expansion projects have taken place at the production site, adding significantly to the size and production capacity. Right now, construction work is ongoing at the site to double the capacity, and further investments are in the pipeline.The plant boasts state-of-the-art technology and is highly automated with advanced robotic solutions. As a visitor, you will be invited into the heart of Chr. Hansen with the chance to witness the production process from raw material to final product – stored in the impressive minus 55 degrees C freezer – the largest one in the world. Practicalities. On Wednesday 7 June, the Congress will pick you up in a shuttle bus, either from the airport or from one of the recommended hotels, and take you to the visit at Chr. Hansen. You are of course also welcome to arrive on your own. We look forward to welcoming you to a very exciting afternoon.
Chr. Hansen is a global bioscience company that develops natural solutions for the food, nutritional, pharmaceutical and agricultural industries. We have been around since 1874 and have more than 2,800 dedicated employees in more than 30 countries. As a company we aim to deliver innovative natural solutions that advance food, health and productivity for the benefit of us all. We develop and produce cultures, enzymes, probiotics and natural colors for a rich variety of foods, confectionery, beverages, dietary supplements and even animal feed and plant protection.